| | |
| --- | --- |
| SweetSophies Slimed Evening Dress and Pantyhose | |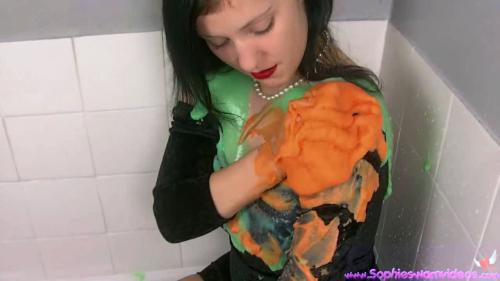 Starring the following model:
| | |
| --- | --- |
| File count: | 1 |
| Total size: | 203.33 MB |
| Total runtime: | 10 mins, 46 secs |
| Date added: | 5/05/16 |
| Views: | 1926 |
| Scene ID: | 18018 |

$9.00

Report
In this messy sexy scene I am wearing:

- A fitted crushed black velvet evening dress

- Black PVC heels

- Tan pantyhose

- Sexy satin black and purple leopard print full panties with see-through mesh back.

- A pearl necklace

- Silver painted nails

In this sexy, messy scene I:

- Show off my sophisticated, sexy outfit.

- Take a big jug of thick green slime and pour it over my shoulders, which pours down my back and drips over my cute bum.

- Drip thick green slime over my sexy PVC black heels.

- Take a huge bucket of orange slime and scoop lots of big handfuls out and splat them all over my crushed velvet dress, tan pantyhose and down my cleavage.

- Take big handfuls of orange slime and splat them into my hair.

- Slop lots more huge handfuls of orange slime all over my body and hair, completely covering my sexy tan pantyhose.

- Fill the front of my sexy black crushed velvet dress with thick green slime and squeeze it all out all down my sexy tan pantyhose.

- Take off my fully gunged crushed black velvet dress showing off my big sexy boobies and cute bum.

- Squeeze all of the thick orange gunge from my black velvet dress all over my big sexy boobies, feeling more and more turned on.

- Scoop up the mixture into a big jug and pour it all over my sexy black panties and sexy tan pantyhose.

- Take off my fully gunged sexy tan pantyhose and squeeze the gunge out all over my body.

- Scoop up huge handfuls of the slimy mixture and splat it all over my head and face, loving the feeling of the full facial coverage and feeling very satisfied.
Includes the following file:
crushed-velvet-dress-heels-and-pantyhoes.wmv

1280x720

2,640 Kbps

203.33 MB

10.8 minutes
More scenes
Tell others about this scene: